About Dyemaster Mike Barker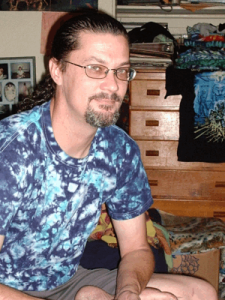 I started my tie-dye career in the late 1980s. I spent seven years touring with the Grateful Dead and vending my tie-dye shirts and perfecting my style. I love all types of music, especially classic and hard rock. The lot vending scene at concerts and festivals is a big part of my life. I love all the great people I meet and all the great music. Tie dyes are a natural fit. Over the years, I've collected hundreds of great pieces of music memorabilia. I've been lucky to have gone to thousands of concerts and shows, and probably sold tens of thousands of tie-dye shirts.
Since the 1990s, I've set-up a tie-dye shirt and tie dye tapestry booth at many amazing shows in Arizona by Grateful Dead tribute bands (such as Xtra Ticket & The Noodles), and at music festivals in Phoenix, Scottsdale, Mesa, Tucson, Flagstaff and places in between.

The tie-dyed life has been going well. An incredible string of Grateful Dead shows in 2009 really catapulted my year to Grateness, I've had some tough challenges along the way. In 2010, my trusty old VW Bus had an engine fire that burned out the whole back end of the van. So I wasn't able to get around to so many events too easily. In May of 2011, I moved after 14 years in the same house. What a big change! But the new place has a great garage, and I'm back to tie-dying as much as I can. My hands are pretty much permanently stained from the dyes!
Dyemasters tie-dyes are the real deal!                                                                                    No Fade, No Bleed, Pre-Washed Twice, Dryer-Shrunk, Heavyweight, Top-Quality 100% Cotton, All-American Tie Dye Shirts featuring over 100 designs… Not Mass Produced! Not made in China!
Click below to stay connected with me on Facebook to get the first views of my latest creations and new patterns!