Dyemasters Wholesale/Bulk Tie-Dye and Educational Discounts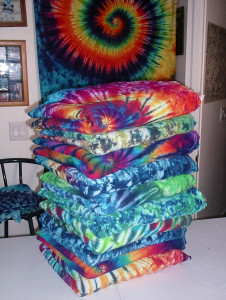 Wholesale, educational groups, clubs, and other bulk orders are available for Dyemasters tie-dye shirts. These are perfect for school groups, field trips, family reunions, events, and more…
Retailers have discovered the Dyemasters difference!                        Every Dyemasters tie-dye shirt, clothing, and art is hand-made to order, and beautiful, eye-catching, and unique designs. We make sure every shirt is of the most excellent quality, one we'd be proud to wear ourselves!
You will not find better quality for a better price anywhere.  Many of our wholesale clients have bought Dyemasters tie-dye shirts for many years. Dyemasters is your only answer for bulk shirt order!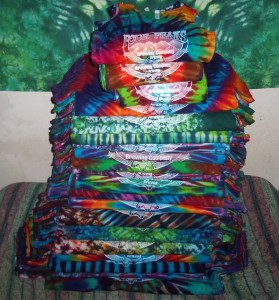 Brew pubs and many other businesses are also finding that Dyemasters bright and colorful tie dye shirts are an easy and effective way to provide their customers with cool merchandise, easily double their investment, and advertise their brand at the same. Your customers will be paying you to advertise for you ~ Groovy!
We can work with pre-screen printed shirts, or we can tie-dye the shirts, and then you can screen print them after dye. Please Contact me directly for custom quote to best suit your needs.
Bulk and Wholesale Orders
Orders of 20 items or more are considered bulk or wholesale orders. S&H needs to be quoted along with the order. Please call or send an e-mail to obtain a quote.
Special Quick Pick Offers- 
Wholesale Fast Orders of 40 or 100 shirts in mixed patterns. All shirts are handmade and hand picked by DYEMASTER Mike and they are all guaranteed.
Quick Pick Wholesale Orders include Shipping and are 100% Guaranteed!
Click on the Special Offer of your choice to ADD to your CART!
DYEMASTERS GUARANTEE:
If you are not happy with ANY of the shirts, you can return them
and I will remake them till you are Satisfied.
If you are looking for some other specialized bundle of products, sizes, types, call Dyemaster Mike directly:

Order Processing and Shipping
All items produced by Dyemasters are hand made and created after an order has been made. Typically it takes 2-3 weeks for orders to be created and shipped.
Dyemasters products are No Fade, No Bleed, Pre-Washed 2x, Dryer-Shrunk, Heavyweight, Top-Quality 100% Cotton.